Join Us At Our Specially Programmed Closing Reception and Art Auction for "Show & Tell"
Dedicated to celebrating the achievements of local women in performing, visual and literary arts. Our mission is to recognize artist passion in women and create opportunities for emerging, mid-career and established artists by opening avenues for networking, support and promotion of their individual talents.
Our spectacular line-up of talent includes:
Visual Artists
Also presenting:
Jodie McNamara/ Stand-up Comedian
Jessica de Mahy/ Spoken Word
Catherine Gagnon/ Handmade Crafts
Beats by Dj Emily Jones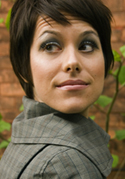 Miss Jones represents a refreshing escape from the modern electronic dance scene. Her sets are groovy, upbeat with swinging rhythms and full of instrumental music. She will surely whisk you to a sunny place you'll surely want to go in December! Be there! Visit her website at www.emilyjones.ca.
Admission: Pay What You Can
Exhibit begins November 21 and goes until December 19th, 2015
Exhibit runs through Mondays to Fridays, 11am to close.
Brixton's British Pub
210 Sparks Street, Ottawa, K1P5C1
(613) 233-8283